Mergers & Acquisitions
ACCO Law & Taxes offers professional consultancy and comprehensive handling of business integration processes in planning and implementation of mergers and acquisitions. We warrant legal certainty and we help clients take optimized business decisions while we take over the legal obligations.
Within the framework of our services, we carry out business appraisal procedures, develop long- and short-term financial forecasts, provide support in negotiations, optimize and secure the applicable terms, create merger and acquisition documentation, and finalize the integration processes.
The success of our proposal stems from the synergy of our international experience and verified know-how, enabling us to offer high level service to corporations and SMEs.
What benefits do we offer?
Effective merger & acquisition process
Assurance of optimized decisions
Proactive support in negotiations
Increase of business value
More rapid business growth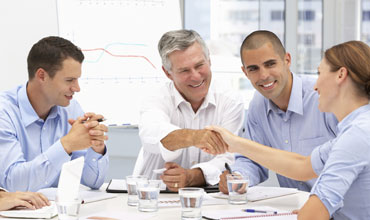 Mergers & acquisitions - the proposal
Market analysis and due diligence of the business structures of parties to a merger or acquisition transaction process (comprehensive audit of the financial standing, legal status and tax condition of the business).
Preliminary valuation of businesses taking part in a merger or acquisition.
Preparation of strategies, surveys and forecasts of the financial consequences of merger or acquisition of other parties in a short- and long-term business context.
Support in negotiations aimed at defining the transaction terms.
Support in producing a final and binding business acquisition proposal, final negotiations.
Preparation of transaction documentation.
Support in the process of closing and clearing the transaction.
Assistance in effective integration of the target company, maximizing synergies on the legal and tax levels.
We give assurance of responsible partnership to our clients, which we provide through active support at every stage of merger, acquisition, or business integration.